Custom Charters
Customize Your Adventure
At Crazy Rays Adventures we have the ability to customize your adventures to suit your needs.
Our clients commonly ask if they will be allowed to fish for certain fish throughout the course of the day or take pictures etc. Our response is when you buy the whole boat we are very flexible in trying to facilitate your desires.
Our Captains will ask you in the morning what you are looking to get out of the trip and then provide you with guidance on their best recommendations for what you are looking to do.
There is only so much time in the day but we will try to make sure you get what you are looking for out of the exclusive charter.
If you want to spend more time targeting large fish we can do that or if you just want to catch a few fish then check out some of the sites, no problem.
Special Requests A-OK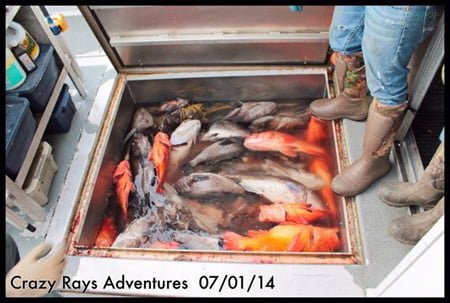 When you choose to do an exclusive charter you will have paid for all of the available seats on the boat and no other clients will be booked.
When the boat is booked in multiple groups then we have a standard program for the day that we adhere to.
When you go the exclusive route it allows us to cater the trip to your wants and desires more thoroughly.
There are many options that can be possible in customizing your adventure so let us know what your thoughts are and we will see if we can make it happen.
If you are interested in doing a customized charter please call us with your ideas and we will further discuss it with you.