Alaska Salmon Fishing
King Salmon Fishing Charters
King salmon are abundant in the waters outside of Whittier, Alaska and we offer multi-day Alaska salmon fishing and halibut combo charters, which feature, an overnight lodge stay at the beautiful Port Ashton Lodge.
Staying at the lodge, positions us in relatively close proximity to the fishing grounds, which cuts down on travel time and capitalizes on more fishing time. We are also offering day trips for kings on every Wednesday through the months of May and June, due to the closure on halibut on these days.
Feeder kings have been averaging typically between 17-23 lbs and offer some of the finest eating meat in Alaska. Fish over 30 lbs are common though and fish up to 60 lbs have been caught.

Long Live the King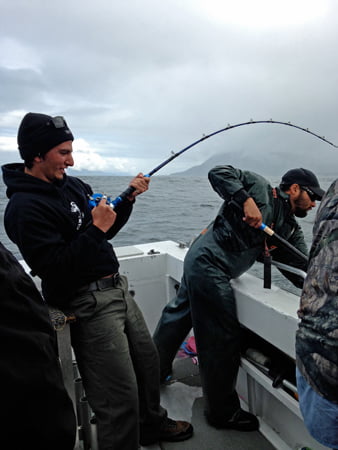 They don't call them king salmon for nothing and you will instantly realize the raw power and aggressiveness these fish exhibit while in the saltwater.
Often times the angler will bring a king salmon to the boat 5 or 6 times before the fish is able to be successfully netted. When the Alaska king salmon are in good, multiple hook ups are very common and fishing can be fast.We keep the boat moving hunting for the schools of salmon so we keep our clients on top of them.
We typically like to target Alaska king salmon by trolling for them. This allows us to cover more water resulting in more presentations to more fish. The Crazy Ray was designed and rigged specifically to fish all 6 clients at one time, which means there are no bystanders while trolling on our Alaska salmon fishing trips.
It can be a little chaotic at times but we've found that the more rods we have in the water the better chance we have at catching salmon. Like dad use to always say, "you can't catch them if your hook ain't in the water."

Alaska Salmon Fishing at it's Best!
Keep on Trolling
Trolling speeds vary depending on the tide and we try to optimize our fishing efforts to the portion of the tide that is the most effective at catching kings. This is why we only combo on kings and halibut on our multi-day lodge trips.
As with anything, the more tools you have to complete the job, the better, and we like to use a variety of tackle to target king salmon. Usually we run a combination of baited rigs and hardware. For hardware we like to use a variety of spoons and Kodiak Custom Spinners. Flashers are used periodically but only when needed as we feel they take away from the fight some, as it is more drag on the rod and increased resistance to the salmon.
We use only the finest quality Okuma Fishing USA gear when fishing on our Alaska salmon fishing trips. Okuma's 8'6″ Classic Pro GLT Medium Heavy Bait caster rods mated to Okuma's Coldwater series 303D reels, (with line counters), ensures you have all the horsepower and finesse you need to bring your catch to the net. 80 lb braid is standard on all of our Alaska King Salmon reels as we are not big on losing any salmon, or gear.

Landing the King of Salmon
One thing to remember when you are fighting the Alaska king salmon is not to horse the fish or in other words rush it to the net. Let the salmon tell you when it is ready to be netted. How do you do this you might ask?
You wait until you see the salmon roll onto their side for a brief second and this when you want to forcefully drag it into the net.
Often it will take numerous times of the king salmon coming up next to the boat appearing as if it is giving up only to burst off in a mad dash screaming line off of the reel.
It is truly, incredibly exciting, and is sure to get your blood pumping.

Whittier Kings
Whittier has some of the best Alaska king salmon fishing in Southcentral, Alaska's waters. The rich biomass of bait fish offers excellent feeding grounds for them to fatten up before taking the great journey up the rivers.
Come and join us with your family and friends for one of Crazy Rays Adventures Alaska King Salmon Fishing Charters.
Prince William Sound limits for Alaska King Salmon for 2020 are 2 fish per person per day with 4 in possession.
Silver Salmon Fishing Charters
The rich waters of Prince William Sound are teeming with all species of Alaska salmon. All of our Alaska salmon fishing trips are multi-species combo charters and we target as many species as possible every day. When silver salmon numbers are good we typically target them after we have caught our halibut and other species. Silver salmon are an absolute blast to catch and they typically entertain you by making huge jumps into the air and running every which way. It can at times be a total state of chaos with fish flying everywhere, nets doing the "huck 'n' chuck", and the clients doing the silver salmon shuffle. Better bring your dancing shoes if the silvers are in!
We often use a version of mooching we like to call reel, reel, reel, reel, reel, stop……drop it back down you missed em. We use a single hook mooching rig with a Gamakatsu 5/0 siwash hook, squid hootchie in the season's hottest color, and a 3oz trolling weight with about 36" of leader. Small chunks of herring are added to the hooks to further entice the silver salmon to strike and spare rigs are always on hand so you don't miss the bite waiting for your hook to get removed from the last fish you boated. Silver salmon like to congregate around points and structure that holds baitfish. As with other fish, if you find the bait you will find the silver salmon.
We use only the finest quality Okuma Fishing USA gear when fishing for Alaska silver salmon. Okuma's 8'6″ Classic Pro GLT Medium Heavy Bait caster rods mated to Okuma's Coldwater series 303D reels, (with line counters), ensures you have all the horsepower and finesse you need to bring your catch to the net. The line counters ensure you put your mooching rig exactly where the fish are.

Hot Peak Season Action
Alaska silver salmon are typically abundant in Prince William Sound beginning in early July and through up to early September. The peak is around early August and limits are pretty common at that time. Silver's in the saltwater average about 32 inches long and between 9 to 15 pounds but can reach up to 20 pounds. They are incredibly aggressive in the saltwater as they are feeding so heavily they often regurgitate baitfish as they are netted. At times they will strike at most anything in the water and it is not uncommon to have silver salmon right at the boat snatching the baits up as soon as they are dropped in. They even get caught on halibut rigs incidentally while dropping down or while reeling up your line.
If you would like to get in on some this Alaska salmon fishing action, come and join us, with your family and friends, for one of our Crazy Rays Adventures Alaska Silver Salmon charters.
Prince William Sound 2020 limits for Alaska Silver Salmon are 3 per person per day 3 in possession. You may retain up to 6 total salmon per person per day with 12 in possession however on 3 per person per day or 3 may be silver salmon.