Alaska Rockfish Fishing
Alaska Rockfish Fishing Como Trips
Crazy Rays Adventures offers Halibut and multi-species combo fishing charters.
On our daily charters we usually target rockfish at some point of the day and limits are almost always a daily occurrence.
Our primaryAlaska rockfish fishing target the black rockfish, however we have had excellent success at catching other species of rockfish as well.
There are up to 32 species of rockfish commonly found in Prince William Sound and they are spread all throughout the water column.
We have caught them right on the surface and all the way down to 1500'.
The black rockfish we target are normally found at depths less than 60'.
This makes it very nice on the anglers, as there is less effort involved in catching them. Size varies a bit from about 3 lbs up to about 8 lbs.
We try to go after the bigger one's located out in the remote Gulf waters of Alaska and we have many days with most of the fish being 6-8 lbs.
Black Rockfish
To target black rockfish or black bass as they are commonly called in Alaska, we look for rocky structures that have lots of crooks and snags for them to either ambush their prey or utilize the structure for cover themselves.
They are commonly preyed upon by massive lingcod.
The food rich waters of Prince William Sound and the Gulf of Alaska have many areas that have large volcanic outcroppings that provides the necessary habitat to hold massive schools of these fish.
Sonar readings at times are almost blacked out from the sheer number of fish schooling under the boat.
We typically target Black rockfish (Pelagic), however it is not uncommon to catch Yellow eye Rockfish, (Non-Pelagic), as well.
The two species are not usually found together though and Yellow eye are most often found in deeper waters where as black bass are shallower.
Depths greater than 300′ are common for Yellow eye with the Black Bass being commonly found in less than 60′.
Alaska Rockfish Fishing Trips
YellowEye Rockfish
Yellow eye rockfish are very prolific in Prince William Sound and we have great success at finding them when we are looking.
They are located in areas along our travel routes so if you want to catch them please let us know ahead of time so we can try to work it into the schedule for the day.
Because they are a very slow growing rockfish, the limits on them have been reduced to 2 per person per day. You must also retain the first 2 non-pelagic rockfish that you catch while fishing.
If you have reached your limit already have no fear as we have specially designed rockfish releasing tools on our boats.
These tools are made so we can release the rockfish at the depth it was caught at allowing the swim bladder of the rockfish to re-compress. This allows the rockfish to swim away unharmed.
The Toughest Gear for Alaska Rockfish Fishing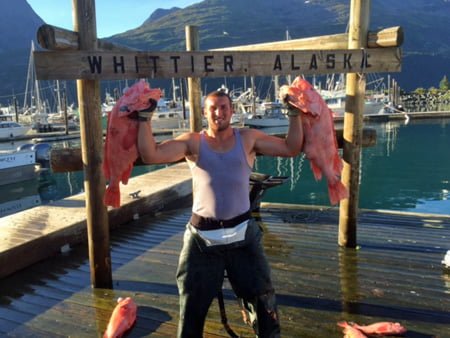 We use light action Okuma Fishing USA Cedros Speed Jig jigging rods in a 6' MH action.
These rods have been designed specifically for jigging and they offer a sensitive tip for exceptional bite detection and a stiff backbone that can handle much abuse.
The reels we use are Okuma Fishing USA's Makaira series reels in the 15II model.
They are a high-speed lever drag reel that provides the fisherman with the ability to keep the line tight, eliminating losses and getting the fish to the boat and then to the table.

Industry Leading Tackle
You can use a variety of techniques when Alaska rockfish fishing such as baited mooching rigs or a wide variety of jigs.
We like to jig fish for them though and we use only use the best, Kodiak Custom Bottom Fish Jigs from Kodiak Custom Fishing Tackle and Savage Gear USA's Sand Eel and Cutbait Herring jigs.
The rockfish attack these jigs with great aggression and we have had excellent success in getting limits of these fish in short order when fishing with these jigs.
To hook up on rockfish while fishing it helps if you understand the proper techniques to jigging for them as there is a bit of a trick to it.
We've found that black rockfish normally hit on an upstroke or from an attack from below.
What this does is cause slack in the line, which makes the fisherman believe they have dropped their jig onto the bottom when in reality a fish has taken the jig.
If you are jigging and you notice your jig is not dropping at the same rate of speed that it has been, then you need to sharply raise the rod tip and set the hook.
If the fish are thick under the boat you may not be able to get your jig to the bottom even.

Fast Action Safety
When the fish comes to the boat it may be necessary to patiently wait for the deckhand and captain to get to you as they are almost always going to be unhooking or bringing fish in the boat at a high rate of speed. Do not try to pick the fish up out of the water with the rod. This will point load the rod tip and snap it.
It also poses a major hazard to the fisherman and crew, as all of that tension has to go somewhere if the hook pops out and that somewhere is usually right towards your face. When the deckhand gets to you bring the rod tip towards him so he can grab the leader and swing the fish in the boat. Rockfish are Alaska's only sport caught fish that contain venom in their spiny fins. It is usually only mildly toxic to humans but we have seen a few puffy fingers and one fat toe before.
The spines are like hypodermic needles and will go right through an XTRATUFF boot so remember not to kick at the fish while they are flopping on the deck. Typically you won't have to worry about it as we normally subdue them with a small aluminum bat before setting them on the deck.
Rockfish Taco's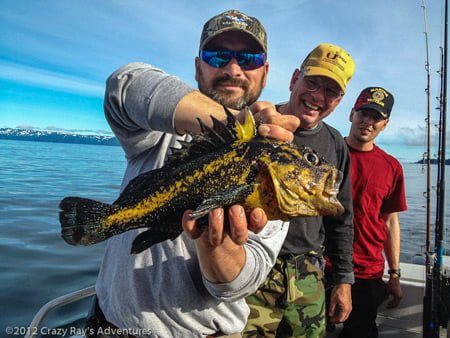 Most rockfish have delicious white flaky meat and it can provide for excellent table fare that cooks very easily.
Rockfish tacos are a great way to prepare them but our personal favorite is to use the meat to make a dish called Ceviche.
One thing we have found though is that the meat doesn't seem to last quite as long in the freezer as say halibut would, so we always encourage our clients to eat their rockfish first.
Come and join us with your family and friends for one of Crazy Rays Adventures Alaska Rockfish fishing trips.
Open Season for Alaska Rockfish Fishing
Rockfish is open for fishing our entire season.
The 2020 limit for rockfish in Prince William Sound is 4 total rockfish per person per day with 8 in possession. Only 1 / 4 of those can be non-pelagic.
The boat leaves the dock in Whittier at 7:00am and returns between 5:00 – 7:00pm