Alaska Pacific Cod Fishing
Family Fun- Alaska Pacific Cod Fishing
At Crazy Rays Adventures we are now offering an Alaska Pacific Cod fishing charter. Unlike our other charters, which are based on combination fishing, this charter is targeted at harvesting pacific cod only.
However we will have a halibut permit aboard the boat and if you catch a halibut you will be able to keep it in correlation with applicable seasons and limits.
This charter is more family friendly as the fishing grounds are located much closer to port than we normally fish. Average travel times to the fishing grounds are about 1.5 hours and there is a ton of incredible sites that are available to see along the way as well. There is a minimum limit of 4 people required to book this charter however please call us to see what the availability and bookings are like.
This is an 8 hour fishing trip and the boat leaves the dock at 7am.
The Under Rated Pacific Cod
Alaska Cod fishing is a bast and Pacific cod are Alaska's most under rated fish.
Many years of bad mouthing this fish have given the poor pacific cod a bad rap but we don't feel it has been given a fair shake.
Their white oil rich flakey meat can be some of the best eating fish in Alaska, and it hands down, makes the best fish and chips.
You can even get fresh cod fish and chips made for you at a local restaurant called Swiftwater Seafood Café right in Whittier.
Just tell Margaret that Crazy Rays sent you and she can get you fixed up with some of the finest eating seafood in Alaska.
Doubling Up = More Fun
We typically like to target cod in waters less than 300' deep and we use a combination of baited jigs and baited hook rigs to catch them.
When using jigs we prefer to use Kodiak Custom Bottom Fish Jigs tipped with a piece of cut herring that has been soaking in Crazy Rays secret lure.
Alaska cod love to go after this combination and it is not uncommon to catch multiple fish in a row.
We have even caught 2 fish at the same time on the same jig. When using baited rigs we usually use a baited 16/0 circle hook that is made up on a leader system and a lead weight is used to get it to the bottom.
Drift fishing is a common technique used to target pacific cod as well as anchoring. We like to use a combination of both when we are pacific cod fishing.
For gear we use only the finest rods and reels that Okuma Fishing USA has to offer.
We typically fish with the lighter action rods they offer in the Cedros Speed Jig model which is a 6' MH action rod and it offers a great balance between rod tip sensitivity and a stiff backbone for hauling in fish.
The reels are from Okuma's Makaira series and we fish the 15II model. It features a 2 speed function that our clients absolutely love and they have properly dubbed it "The Easy Button".
How We Catch the Cod
When jigging for Alaska cod is important to remember that the fish most often take the bait when it hits the bottom of the sea floor.
This means that if you are not on bottom you will probably not get as many bites as if you were.
To jig you raise the rod tip sharply and then drop the rod tip back down towards the water allowing the jig to smack the bottom.
You then pause for brief second giving the fish a chance to bite then repeat this process.
You continue repeating this process until you catch a cod. Periodically you should reel in to check your bait, as sometimes the cod are able to get the bait off of the hook without you hooking it.
You don't want to be fishing naked down there.
What's on the Menu
Alaska cod are commonly found in large schools over sandy flats and catching them can be very easy if you find a location that they are in.
They feed heavily on herring, sand lance, capelin, and even shrimp. There isn't much a pacific cod won't eat. This makes catching them all the easier which is great for us.
The Alaska cod population in Prince William Sound is very healthy and there is no shortage of areas to find them in.
We commonly only have to travel about 30 miles out from port to begin catching them. The areas that we fish in are usually very calm protected waters and that makes it more family friendly than our Gulf of Alaska excursions.
Many days the water is so calm that it looks like a mirror with the reflection of the mountains in background.

Getting Cod Ready for the Plate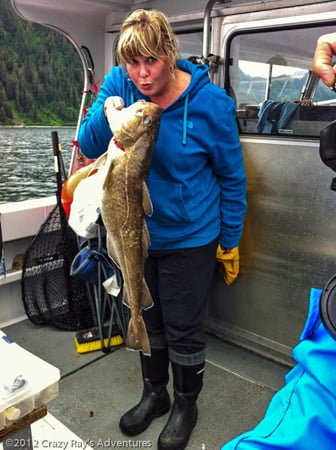 After you have caught an Alaska cod a very important step has to occur to keep the meat in good condition.
We've found that bleeding the fish properly is a key factor in meat quality.
Every fish we bring onboard is properly bled and then placed in our fish holds so the fish can continue to bleed out the rest of the way.
The fish holds on our boats are different then on some other boats because they are built into the bottom of the boat where it is cooler keeping the meat in excellent condition.
The next order of business is to get that precious white flaky meat off of the carcass.
All of Alaska's fish have worms in them and the worms primarily originate in the belly of the fish. If you don't keep the fish very cold or get the meat off the carcass in short order the worms will begin to migrate throughout the meat.
We don't want that so we often fillet the pacific cod shortly after we have completed catching. Usually on the way back into port the deckhand will fillet your catch.
Open Season for Alaska Pacific Cod Fishing
2020 Regulations for Alaska Cod in Prince William Sound is no daily bag limit and no possession limit.
Alaska Cod Fishing trips leave the dock at 7am and return at 3:00pm