Alaska Sea Duck Hunting
Alaska's Prince William Sound is home to the largest population of Sea Ducks in North America. We here at Crazy Ray's Adventures are extremely fortunate to be able to provide you with an Alaska Sea Duck Hunting adventure of a lifetime.
You will see some of the most beautiful breathtaking scenery that southcentral Alaska can offer.  This scenery will serve as your backdrop while chasing trophy birds to include Harlequin, Barrows/Common Goldeneye, all three species of Scoters, Common and Red Breasted Mergansers, Buffleheads and several species of puddle ducks. Although, Barrows Goldeneye's and Harlequin are our primary target and usually most hunters are successful at harvesting by the third day. This allows us to utilize the fourth day for targeting special requests as possible.
Our location is key as we are the closest Port to Anchorage, Alaska (The Big City) which puts us just a short 1 hr drive to get to Whittier. With our Custom built vessel,( LOA 40′ x 15′) we rarely see cancellations as our vessel is large enough to get us out on the water even in poor conditions. Clients typically fly into Anchorage International Airport, grab a rental car and head south to either Girdwood or Whittier for their stay the night before the trip.
Our mission is to get you your trophy birds all while providing the best Alaska Sea Duck Hunting experience one can offer while doing so.
Book A Harliquin Sea Duck Hunt With Crazy Rays
"We love waterfowl hunting and have a deep passion for seeing others enjoy what we get to on a daily basis.
We understand your passion for waterfowl hunting, and we want to exceed your expectations while pursuing your dream in obtaining these trophy birds.
Let us give you an experience you will not forget, all while making memories to last a lifetime."
Raymond and Brenda Nix
Whats the best time to Hunt Alaska Sea Ducks?
Our Alaska Sea Duck Hunting season runs from October 1st through December 16th.
Many clients coming to Alaska are in pursuit of trophy birds in full winter plumage to add to their collection. If this is your goal, then we suggest you book after October 20 to the end of our season. Most all birds during this time will have very few pin feathers and all markings on mature birds will be true. As the lakes and ponds begin to freeze in the interior it pushes the birds south into Prince William Sound where numbers continue to increase daily.
Weather plays a huge role in waterfowl hunting across the Prince William Sound. As the winter sets in it can bring huge storms across this region. This is where we stand apart from many other outfitters across Alaska. We have extremely experienced Captains that have years of experience in this area. The boat we use for this is more than capable and will provide you the most comfortable experience one can have while aboard.
Sunlight is another important aspect of hunting in Alaska. In November your looking at around 10 hours of daylight. In December it can be as little as 5-6 hours.
Why choose a liveaboard for your Alaska Sea Duck Hunt?

The greatest advantage to choosing the liveaboard option for your sea duck hunt is the ability to maximize your hunting time and opportunity. Hunting locations can vary from 1-3 hours travel time from port one way depending on the species you are targeting.
Shooting Daylight is limited in Alaska in the winter and the closer you get to winter solstice the less daylight you have available. To put that into perspective October 15th in our area shooting time starts at 7:54 am and ends at 6:33 pm. This equates to about 10.5 hrs of shooting light. On December 1st shooting light is at 8:53 am and ends at 3:41 pm giving us about 6.5 hrs of shooting light total.
The advantage of having the liveaboard vessel is that it provides you the opportunity to be established and ready to hunt at daybreak on the subsequent days. With a smaller window of shooting light there's less time wasted traveling. We will be anchored near the next morning's hunting location ensuring you have greatest opportunity and time for harvesting your trophy Alaskan Sea Ducks.
Your hunting experience

You will be gunning over decoys while located on rocky outcroppings and beaches. These areas not only provide the greatest cover, they maximize your ability to get as close to the sea ducks as possible. It is very common to see shots inside of 15 yds. We only select areas that are commonly centralized around the birds feeding habits. This will allow you to have the opportunity to see more birds per day and better your chances of harvesting those bucketlist birds you are looking for.
Tides play a huge part in Alaska Sea duck hunting and it's extremely important to maximize your chances and utilize this to our advantage. We do this by being out on the water longer and not spending time traveling great distances during shooting light.
What kind of gear do we use?
We use Tanglefree Migration Edition decoys with snap gear attached to longlines. Decoys include Goldeneyes, Scoters and hand painted Harlequin Decoys. We also utilize mojo ducks when needed and flock a flickers to help aid in getting the birds attention. Black flags are available when targeting scoters also.
Inflatable rafts will be used to shuttle you and the equipment to and from your hunting location. Safety is our number one concern. All equipment is USCG approved and all safety equipment is available.
What to bring?
As any waterfowler knows, good gear is essential to remaining comfortable while hunting. Weather can range from sunny and 50 degrees to 40mph winds and snow with temps dipping down into the teens. Dress in layers and be prepared for the cold. Hats and gloves are necessary. Please coordinate with us a week out from your hunting dates for a more accurate weather update.
It is very common for guys to bring neoprene or breathable waders however if you have full length gore tex gear such as Sitka Gear or KUIU, knee high boots are suitable as hunting takes place from land.
Bring a sleeping bag and a small pillow. A pair of house shoes such as crocs are handy to have also. We ask that you minimize your gear to 2 bags. 1 large waterproof bag and 1 daypack. When you board the boat stow your bags in your bunk. Guns are stored in the gun rack in the main cabin in the upright position. All weapons must be unloaded while onboard the boat, no exceptions.
Bring a gun cleaning kit and gun oil with you. We will have a kit on board the boat but may be limited to meeting your special needs.
Meals
Meals are complimentary and typically consist of Breakfast burritos in the morning, Sandwich's and chips for lunch, and a protein with side for dinner. If you would like to bring additional food you can. We have everything needed for food preparation on the boat as well as jet boils for warming coffee etc on the beach. The boat will also have coffee and water bottles available for everyone onboard.
Guns and Ammo
Federal law prohibits the use of lead shot as you know. We highly recommend using only high-quality Steel, Tungsten or Bismuth shot in 12ga 3in to 3.5 shells and 3in in 20ga. Shot size may vary from #5 to #2s. We strongly recommend Hevi-Shot 3″ #2's for most of the birds we target and 31/2″ #2's are ok as well. Many of our clients are shooting Hevi-X 3″ #4's. Whatever you choose it noticeably pays to have quality ammunition.
It is not uncommon to shoot 2 boxes of shells a day. Depending on your shooting ability and level of experience, we recommend having 2 boxes per day for you trip. Most clients bring a case and ship back what they did not use.
We will not have shells for purchase. Bass Pro Shop, Sportsmans Warehouse, and Cabela's in Anchorage will carry everything you need. Shipping ammo to Alaska is not difficult, although be aware of any restrictions or rules that need to be adhered too in doing so. Most of our clients order through Cabelas online and set the Anchorage store as the store for pickup. When you arrive in Anchorage, travel to the store and pick it up from will call.
We recommend you bring a variety of chokes however we typically find that the birds are so close that using improved cylinder or modified is better being the birds decoy well and are usually close. Having a full choke is handy in the event we target Scoters.
Hunting License
If you are not a resident of Alaska you will need a Non-Resident Annual Small Game Hunting License which can be purchased here https://www.adfg.alaska.gov/Store/
Cost is $60.00 as well as an Alaska State Duck Stamp for $10.00. You will also need a Federal Duck Stamp and we recommend you purchase this prior to coming to Alaska. Most waterfowlers already have this in their possession.
Licenses and Stamps will need to be verified before the trip will depart. There isn't anywhere local to source these so make sure you have purchased them ahead of time. Do not leave Anchorage if you have not got them as this will be your last chance to buy Federal Stamps. Pictures of licensing or stamps will not work you must have hard copies for verification in person should a USFWS Agent or Alaska State Trooper request to see it.
Meet the boat
The F/V Strait Crazy is a custom built 40' x 15' monohulled with a raised pilothouse. She is powered by twin Volvo Penta D6 330 HP Diesels and she cruises nicely at around 25 knots. She is equipped with accommodations for up to 14 on a day trip and overnight accommodations for up to 8. The vessel is a United States Coast Guard Inspected Vessel and carries a 5 star USCG Safety Rating. There is state of the art Garmin electronics package equipped on the boat to include 24-mile radar and a FLIR thermal imaging camera system (Night Vision) which allows us to safely navigate the vessel in low light conditions.
The main cabin is equipped with seating for 12 which includes two dinettes that can be quickly modified into berths. The v-berth is equipped with 4 nice bunks allowing us to sleep a total of 6 clientele combined. There is a portable generator onboard that provides for 110v service inside the cabin at night.
The boat is equipped with a Red Dot engine heater to provide additional heat while the engines are running and there is a Webasto diesel furnace to provide heat at all times.
There is a heated bathroom that is accessed from the exterior of the boat, so it is isolated from the main cabin, however there is not a shower.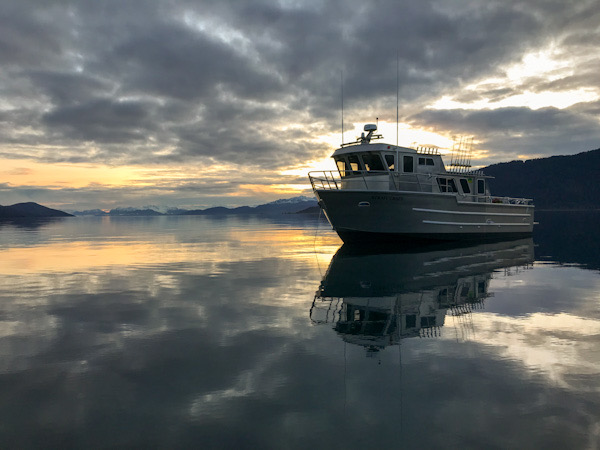 2022  Alaska Sea Duck Hunt Package will include
This hunt is a Guided Alaska Sea Duck Hunting Adventure. The most common package includes 4 days sea duck hunting & 3 nights stay aboard the F/V Strait Crazy (Meals included) in Remote Prince William Sound.
Bird packaging and storage is included. Shipping of birds is not included, however shipping boxes are available for purchase at the Crazy Shack in Whittier or at Cabelas in Anchorage.
We will assist with cleaning of birds.
$2800.00 PP   2 person minimum up to 6 max. We will keep your trip as a private trip if you book 5 seats. We will add up to 3 people if you only reserve 2 seats. (We only do parties larger than 5 on private trips or otherwise exclusive)
If you would like to purchase additional days the cost is an additional $575.00 pp/pd. The minimum amount of days for a trip is 3 days 2 nights.
The boat typically departs from the dock at around 8:00am the morning of the trip and returns at around 5 pm the last day of the trip. Note: Departure and Return times fluctuate slightly based on the amount of available daylight.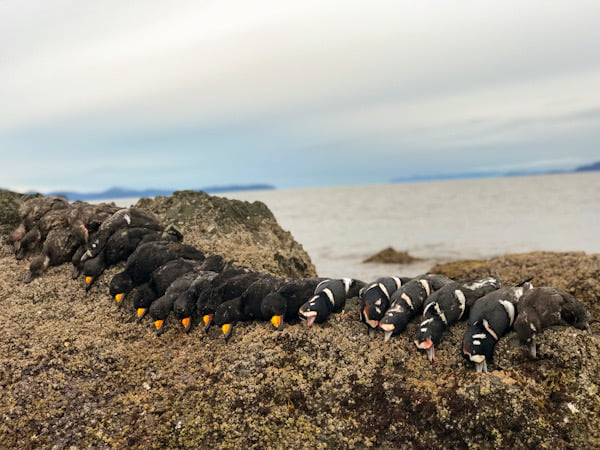 For more information please check out our video on YouTube