Alaska Fishing Lodge
Port Ashton Lodge
On a normal day trip with Crazy Rays Adventures you will travel deep into the outer reaches of Prince William Sound and even on into the Gulf waters of Alaska.
These Alaska fishing trips are 12 hours long and have average travel times of up to 6 hours per day potentially.
We like to fish in these outlying areas because the fishing is most generally far more productive.
As a way to extend our fishing time for our clients, we began offering multi-day fishing and lodging packages. On a multi-day fishing and lodging trip, you will add 6 hours of fishing time to your schedule, as there are 2 trips that you won't have to make back and forth to Whittier.
Double Limits Means More Fish
The Alaska fishing lodge is positioned very close to the fishing grounds, which eliminates having to do so.
These Alaska fishing lodge packages are our most popular trips.
As a bonus, our fishermen can enjoy 2-day limits for their fishing efforts, which means you can take more meat home.
Multi-day trips are available in as many days as you would like to stay but our most common trip is a 2-day excursion.
We strongly recommend a 3-day stay at the lodge because it is a great way to relax in the outdoors of Alaska.
Did I mention there is a saltwater hot tub located right on the beachfront?
Where is the Alaska Fishing Lodge Located
Port Ashton Lodge is located on a remote island on the outer fringes of Prince William Sound.
Nestled in a peaceful little part of Prince William Sound known as Sawmill bay.
Port Ashton Lodge offers a beautiful get away for our clients. The waters inside the bay where the lodge is located are always calm and the sunsets there can be breathtaking.
There is an abundance of wildlife available to view and sightings of Black Bears, Sitka Blacktail deer, sea lions, sea otters, and bald eagles are not uncommon. There is literally so much salmon at times inside the bay, that you can hear them jumping every second.
It sounds like someone is throwing rocks in the water. When the herring are schooling inside the bay sightings of humpback whales are very common right from the beach.

Welcome to Port Ashton Lodge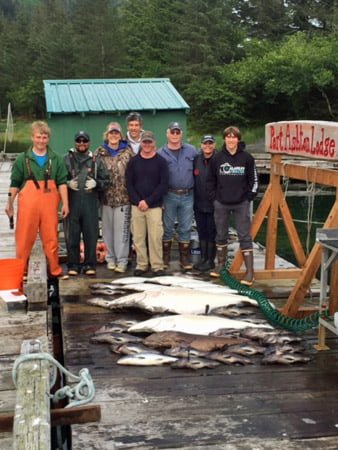 When we are on an Alaska fishing lodge trip, we greet our clients at the Whittier dock around 6:45am. We will send one of our crewmembers to help transport/haul everyone's overnight items safely to the boat. We typically have you bring 1 large to medium size cooler and a couple boxes of small-unscented trash bags and some 1-gallon Ziploc bags for the first days catch.
If you don't have a cooler that is ok just let us know ahead of time so we can make arrangements for brining one. Port Ashton Lodge conveniently has a few freezers available to safely store some of the first days catch. The cost for utilizing the freezer is $40.00 to cover fuel and maintenance costs.
Note: there is no fish processing available at Port Ashton Lodge however your fish will still be filleted and bagged. If you wish to have your catch processed this can be taken care of when we return to Whittier at Fee's Custom Seafood's.
After everyone has safely boarded the boat, Captain will give a short but very thorough safety briefing.
Our crew will help stow away items so they are out of the way. At this point, our Fishermen for the multi-day trip will need to show I.D. and fishing license and get logged into the ADFG Captains Log Book. Departure takes place from the Whittier dock around 7:00am.