Lingcod Fishing Trips
Lingcod Fishing in the Gulf of Alaska

At Crazy Rays Adventures we offer Long Range Halibut and multi-species combo trips featuring Lincod fishing. Lingcod are fished for and targeted when they are in season and the boat can get to where they are located.
We typically have to go into the Gulf of Alaska to have higher success rates for our Lingcod fishing trips, which is always contingent on wind and weather conditions. Lingcod are found however sporadically throughout Prince William Sound. Areas with less fishing pressure and swarms of baitfish seem to be the best as lingcod are easily caught when targeted.
Lingcod range in size with undersized fish being 35″ or less to monsters over 5 feet long weighing up to 80 pounds, they have a mouth that looks big enough to swallow a basketball. Lingcod have a length limit and can only be retained if they are at least 35". However at Crazy Rays Adventures we do not retain any Lingcod under 36″ due to shrinkage from rigor mortise after the fish has cooled down.
Tactics for Lincod Fishing
Lingcod Fishing Season
Lingcod fishing season opens July 1, 2016
Lingcod must be a minimum of 36" for retention
Limits are 1 per person per day with 1 in possession
The boat leaves the dock in Whittier at 7:00am and returns between 5:00 – 7:00pm
Kodiak Custom and Savage Cutbait Herring
Lingcod are incredibly aggressive and this makes them vulnerable to all kinds of baits and jigs. Whatever the size is, you can expect an attitude and a hard fight from lingcod – if they want something, they latch onto it and fight to the bitter end.
However we use only the finest gear when targeting them from our sponsors, Kodiak Custom Fishing Tackle, Savage Gear USA, and FishCracker baits.
We have found that using quality fishing tackle provides for more opportunities for our clients to hook up on monster lingcod.
The Jigs are typically used for fishing lingcod over rocky structure and large pinnacles so great technique is needed to prevent loosing lots of gear on the ocean floor.

Just Keep Jigging
To catch lingcod, we like to use a fishing technique known as jigging, or on the Crazy Ray we call it, "getting jiggy with it."
You basically drop the line to the bottom and then begin lifting the rod in sharp strokes upward and then dropping the rod tip back down so the jig smacks the ocean floor.
We drift while we jig, which causes us to lose more gear than if we were anchored. However, we can cover more water this way and give more presentations to more lingcod.
We've found that the lingcod usually take the jig right off the bottom the best, so if the jig is not hitting the bottom on the drop of the rod tip you have to repeatedly let out line.
It is key to be prepared every time you lift the rod tip up that there could be a lingcod that has taken the jig.
Once you have a lingcod hooked up and on the line you must not forget to never drop the rod tip to quickly allowing slack in the line. This will almost always result in the jig dropping out of the lingcods mouth and it getting away.
Picture hooking a jig on the handle of a bucket and then dropping slack in it. The jig would fall off most likely and the same is true for the real life scenario.

Top Quality Gear
Lingcod typically strike with a subtle bite making it difficult at times to detect it.
Our boats are outfitted with Okuma Fishing USA's finest rods and fishing reels, which consists of the Cedros Speed Jig Series rods and Makaira 15II series reels.
The combination of a sensitive rod tip and high speed reel, ensure our clients have the greatest potential for hooking up lingcod.
The reels are spooled up with 100 lb test braid with extreme abrasion resistance so we don't lose that hog lingcod when you hook into it.
Our Captains and crew do a great job of teaching novice anglers the techniques of fishing and jigging and we have great success at catching Lingcod when they are present.
It can take a little bit to get used to the technique but once you get the hang of it and learn how to feel the strike you will be ripping lips on big lingcod. Lingcod fishing is exciting and man are they good eating. Join us for a lingcod fishing adventure today!

A Monster with Teeth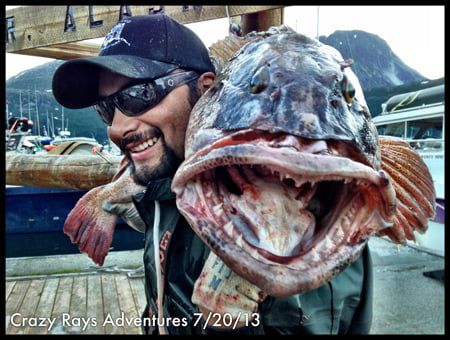 Lingcod feed on a wide variety of marine fish including herring, kelp greenling, rockfish, pacific cod, and other smaller lingcod to name a few.
Additionally lingcod dine on various crustaceans, squid, and octopus.
It is very common while we are catching black rockfish to have a lingcod burst in out of nowhere and attack the rockfish trying to make it a free meal. We have even had massive lingcod attack small halibut.
We have enjoyed some of the best lingcod fishing in Alaska right here out of Whittier and have experienced numerous days with full limits and a boat full of smiles.
Come and join us with your family and friends for one of our Crazy Rays Adventures Lingcod fishing trips.